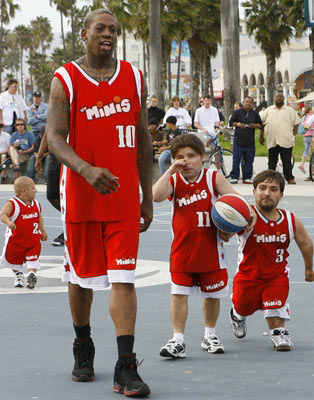 One of our most esteemed alumni, THE Worm has decided to take a step back into the limelight. Dennis Rodman will be starring in what can only be prognosticated to be a surefire hit, The Minis. This charming film is a mix of sports nostalgia, drama, comedy - and perhaps..... love? This groundbreaking film is certain, in our humble opinion, to be a surefire Oscar contender come early next year.
The plot vehicle behind The Minis that will no doubt stretch The Worm's abilities as an thespian and a master athlete, involves him as a coach of a basketball team comprised solely of midgets. Now, we've only seen previews here at WormCo, but we're pretty sure if you throw in monkeys to this film and it might be the highest grossing film of the year. If you make the monkeys be the cheerleaders for this basketball team - perhaps calling them the Mighty Mini Monkeys? We're talking highest grossing film this decade. Finally, and we're not suggesting any changes to this cinematic masterpiece, but if the monkeys just happen to be moonlighting as monkey jockeys at the dog track...... this could be the highest grossing film of all time.
It's always nice to see The Worm doing something not only for the arts, but also for the community. Midget basketball and monkey jockeys have been highly under appreciated for far too long and it's about time Hollywood stepped up to the plate.
Up From the Underground!!